Thanksgiving!
I decided to throw another Thanksgiving dinner last year after the one in 2009 was such a success. And because I love Thanksgiving. The food, the sentiments, the camaraderie! This year I invited quite a few people, thinking that only a few would be able to make it, since this is around the time that people are studying for exams and the like.
Little did I know, the idea was so popular that I had 12 people RSVP to come! I think the novelty of a holiday called "Thanksgiving", the need for a good get together, and the fact that I made it into a potluck in which people could bring traditional or non-tradiitonal items made this an irresistible event! As it was, I was the only American there, and almost everyone asked me what kinds of traditional food they should bring. They all wanted to get into the Thanksgiving spirit!
I borrowed chairs and tables from my work, set everything up all nicely, basted a turkey, made two kinds of stuffing, a pumpkin pie and pecan pie, and chilled some cava. And then...
The snow hit. A few people had to cancel as the buses weren't running in some parts of town. I was so glad though that so many people DID still show up though! There were East African International Relations Students (x2), A Belgian IR student, Greek Lawyers (x3), and English working girls (x2). It was a great mix of people!
They came bearing potatoes, roasted vegetables, homemade cranberry sauce, more pies, baklava, wine, and smiles galore! I wish I had gotten photos of everyone, but alas, hosting requires mucho attention!
The Table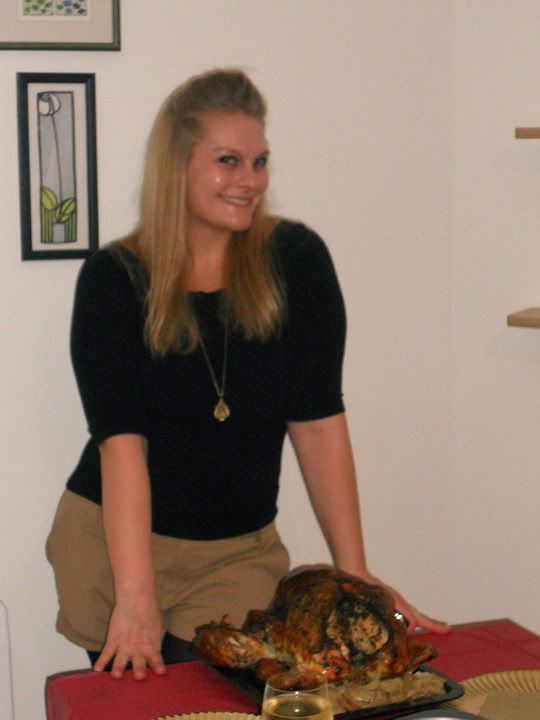 Me and the Turkey...She performed very well!
The food was amazing, the conversation was top notch, and the debates with the Greek Lawyers were highly enjoyable (for me, at least!)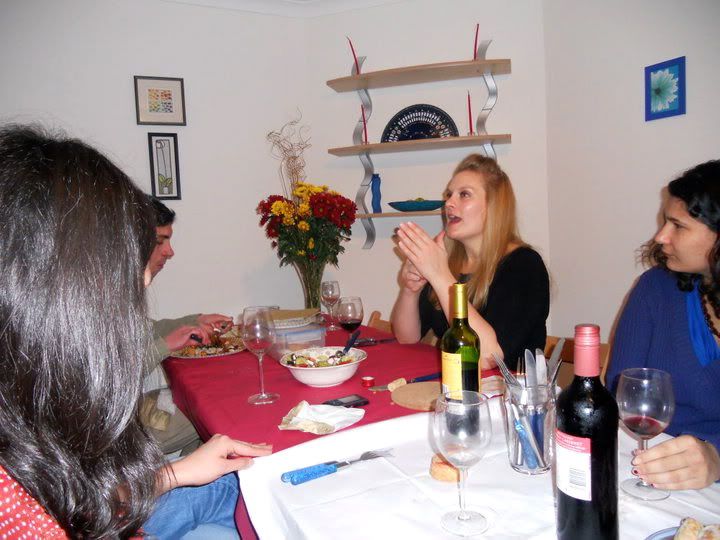 Debating...obviously I was making a point here!
Two of my favourite things...wine and Pumpkin pie!
We even went around and talked about things we were thankful for!
Good Holiday, good times! Only 9 and a bit months to the next one!
<3 Kim