A few weeks ago I attended a world-renowned, everyone-should-do-once, Edinburgh-only event: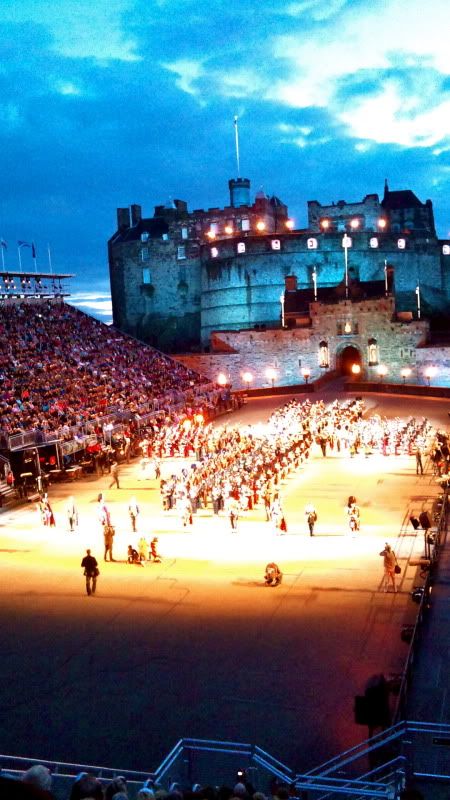 The Royal Edinburgh Military Tattoo. Held only in August every year, the Tattoo is "...

an annual series of

Military tattoos

(military display/ military performance)

performed by

British Armed Forces

,

Commonwealth

and International

military bands

and display teams in the

Scottish

capital

Edinburgh

. The event takes place annually throughout August, as part of the wider

Edinburgh Festival.

" (Thanks Wikipedia!)
Walking up to the Castle
Held on the Castle Esplanade, the scene is set for the Tattoo as early as June every year. The massive bleachers go up, security is everywhere, and tickets go on sale. The show is only held in the evening, and after seeing some of the impressive lighting displays and the dramatic backdrop that night provides to the performances, I cannot imagine the Tattoo having the same effect during the day.
Me and the Castle...waiting for sunset!
The show is opened by 9 bands of pipers. Many from Scotland, but there was also a pipe band from the British Marines and the Nepalese Gurkhas! I love bagpipes, and the intense melodies created by nine bands was a stirring way to begin the show.
Following the pipers, there were performances by military bands from the Netherlands, Germany, Brazil and the rest of the UK. Also, there were military presentations, such as a demonstration about how the Navy deals with piracy, and dancing by traditional Scottish dancers.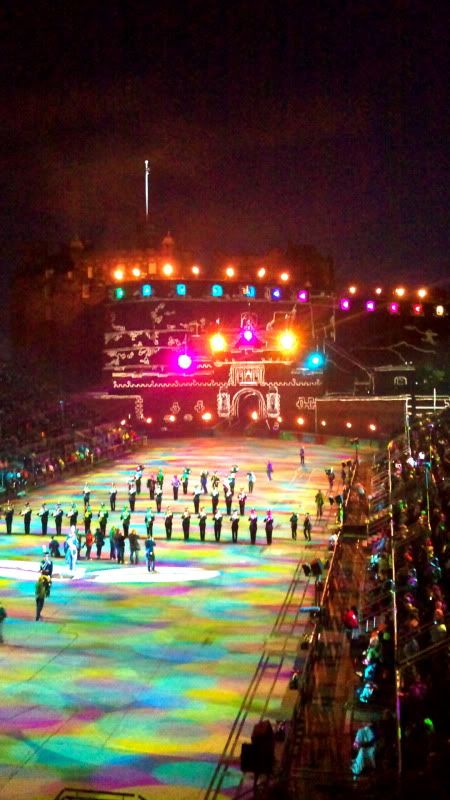 Dutch Group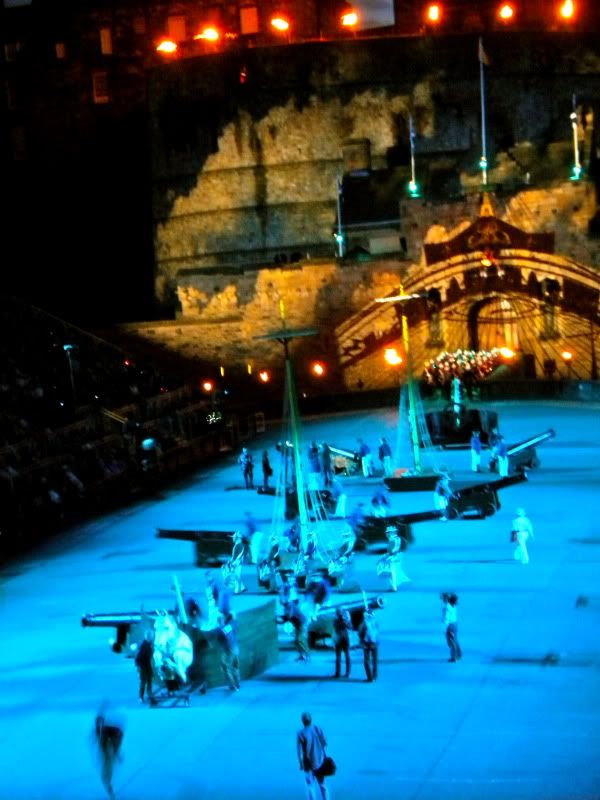 Navy Demonstration
German Group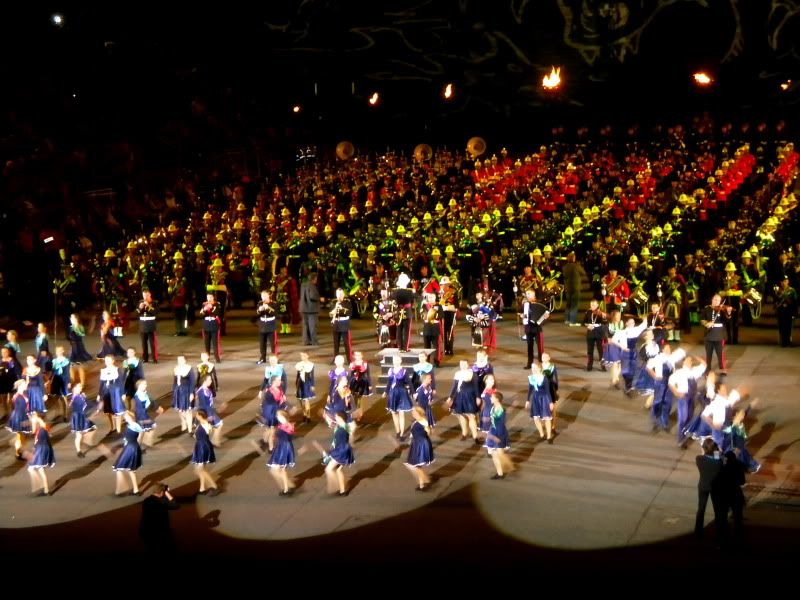 Everyone lined up
Every group that performed was unique and impressive. The Germans wore traditional lederhosen and played Alpenhorns, the Dutch band played while riding bikes (that bit was scary), and the Brazilians had Carnival dancers. But it was definitely the lighting, perfectly synchronised with the music, that helped make the performances really touching. By the end of the evening, the theme had come back around to Scotland as you can see below: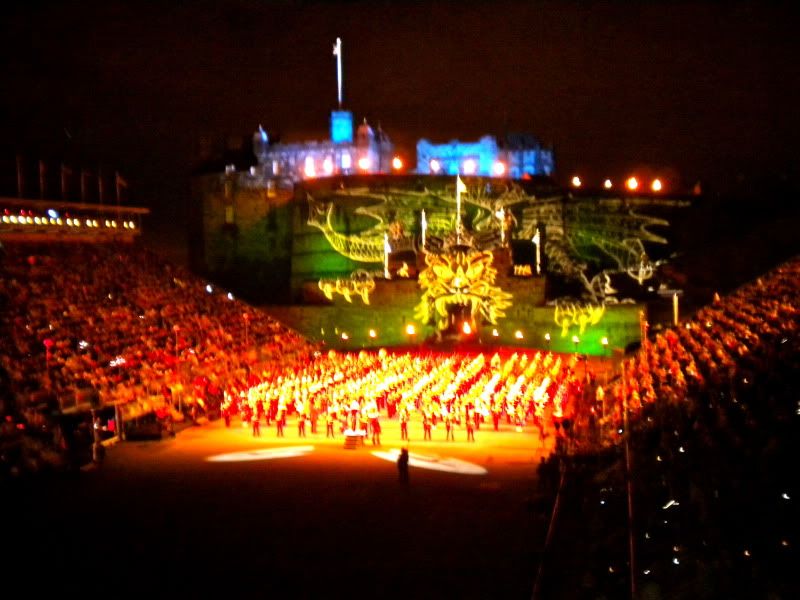 The Celtic Dragon
The Scottish Royal Standard
The Saltire- St. Andrew's Cross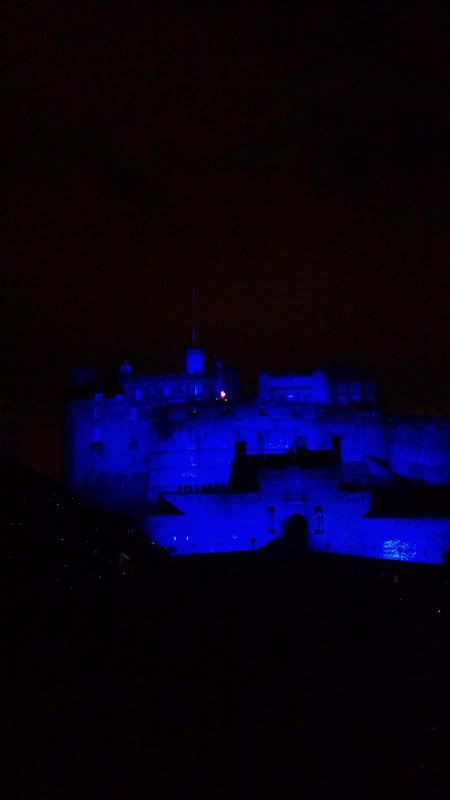 After the touching last performance of "Scotland the Brave" by the Piper Bands, the Lone Piper ended the evening with a stunning solo song from atop the Castle.
The Tattoo was, by far, one of the coolest, most touching things I have ever experienced in Scotland. Seeing such a carefully studied tribute to Scotland, and other nations, was really enjoyable and really helps you understand why Scotland is such a proud nation, and why the Tattoo is one of the most popular events in the country.
Just to give you a taste, check out the video I took of "Scotland The Brave" by the Pipers:
http://www.youtube.com/watch?v=QEvJw0dSjzs
Disclaimer: I rarely take video with my camera, thus the sideways bit...ooops!
<3 Kim