Disclaimer *I have finally written this post because my Mother keeps hinting that it's overdue. And I'm thinking that maybe if I post more regularly, she'll stop hinting about her desire for grandchildren...* just kidding Mom... :-)
So there's this airline called Ryanair. Ryanair is like the Saturn cars of airlines. After takeoff, once you've reached cruising altitude, you realise that you're whizzing through the skies in a plastic box! But it's ok, because you get there in one piece and you can't beat the price!
It was thanks to Ryanair that I got to go to Morocco over Easter Break. From Edinburgh, you can be in Africa in 3 hours and 40 minutes. Brilliant!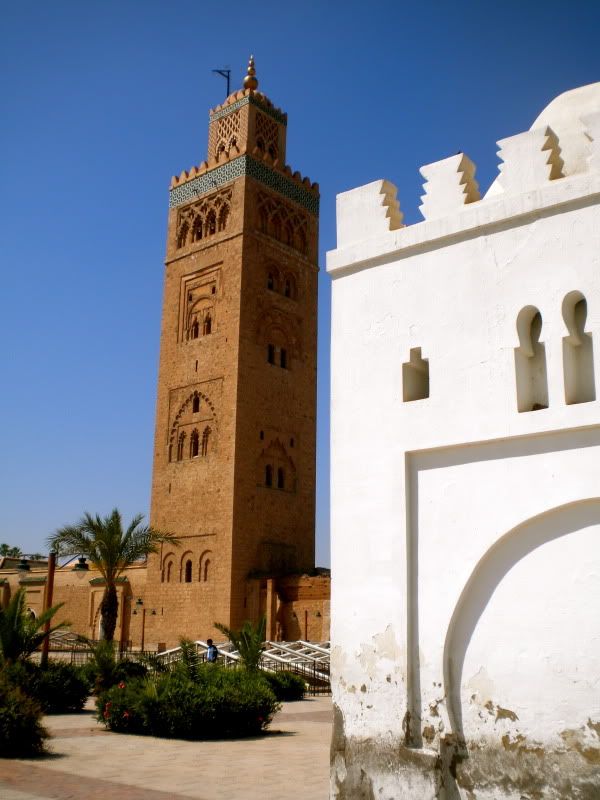 My travel partners were flatmate Kate and friend Emma. We arrived in Marrakech on a warm Tuesday evening, and immediately took note of the pink-ness that surrounded us. Traditionally, the buildings in Marrakech were built out of clay made from the Moroccan soil, which is pink in tone. These days, both the traditional and non-traditional methods of building are used, but it is law that all building have to be painted the traditional pink. Interesting, no?
Our first evening we walked into the old town, also known as the Medina. Our first meal was amazing, I had a lamb tagine with dates and almonds. I will never question the art of tagine again. The conical lid allows meat to slow cook into an amazingly tender meal, and the dates and almonds added layers of texture and taste that were out of this world. Happy Kim!
The Medina-home to stalls selling food, tourists, snakecharmers and henna artists.
The Koutubia
We spent the next day wandering the old town. We visited the Kotoubia (the main Mosque in Marrakech), Bahia Palace, the Saadian Tombs, and a restaurant that had a resident tortoise doing laps around the restaurant. I named him Harold.
Homes are art in Morocco. It's so intricate
Yeah, my ceilings look like this too...
The peaceful courtyard in the middle of the Palace
Storks nest all over the old buildings in Marrakech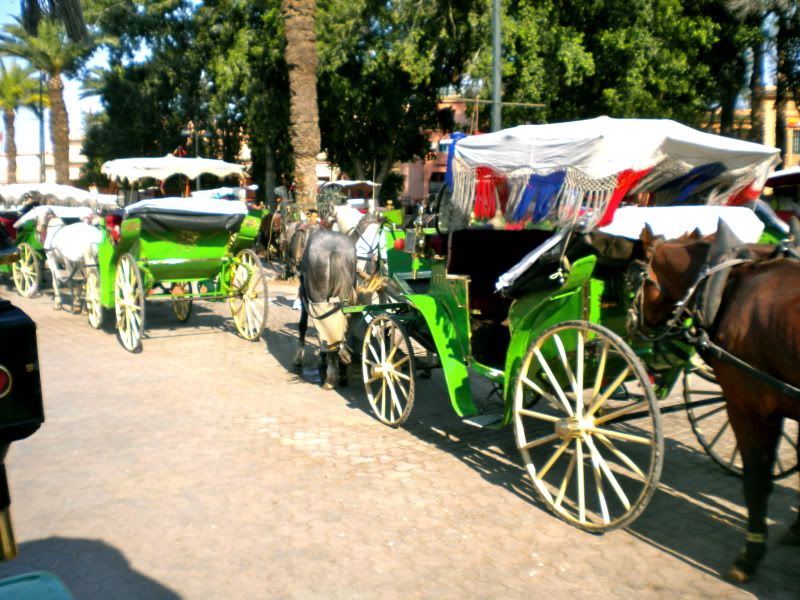 Caleche rides...we did this!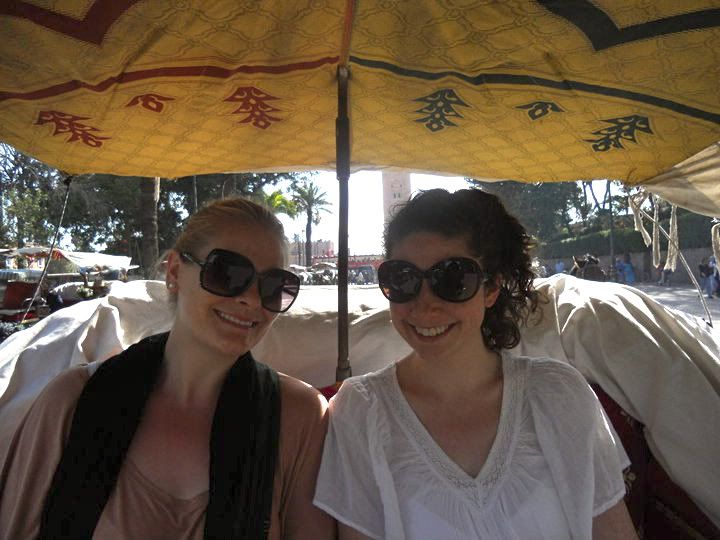 Dans le caleche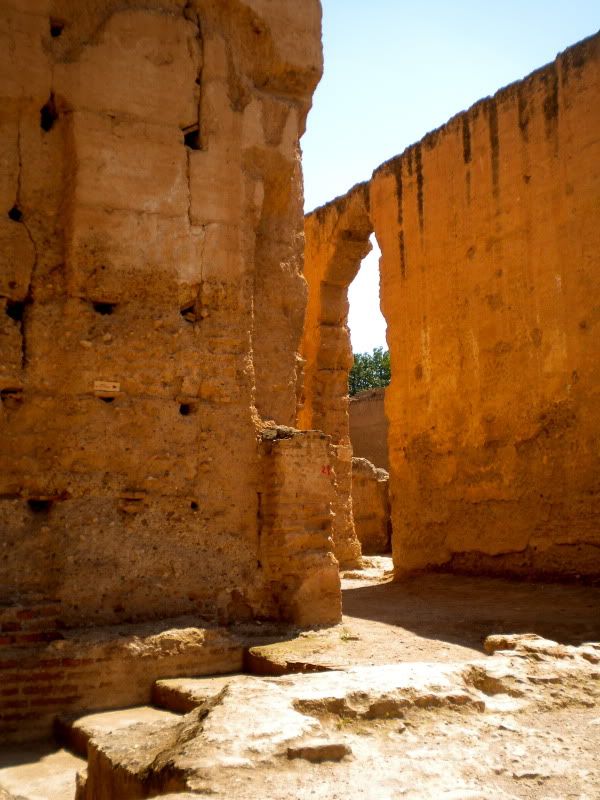 Palace Ruins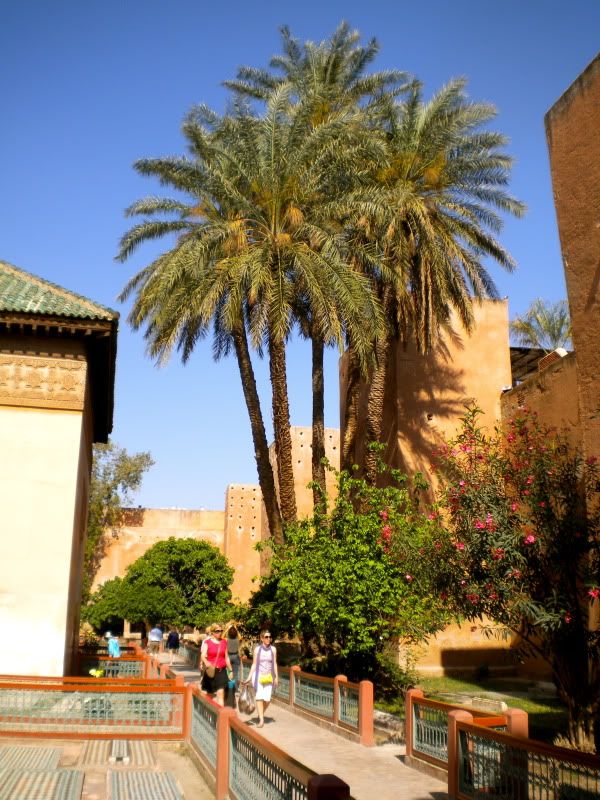 The Saadian Tombs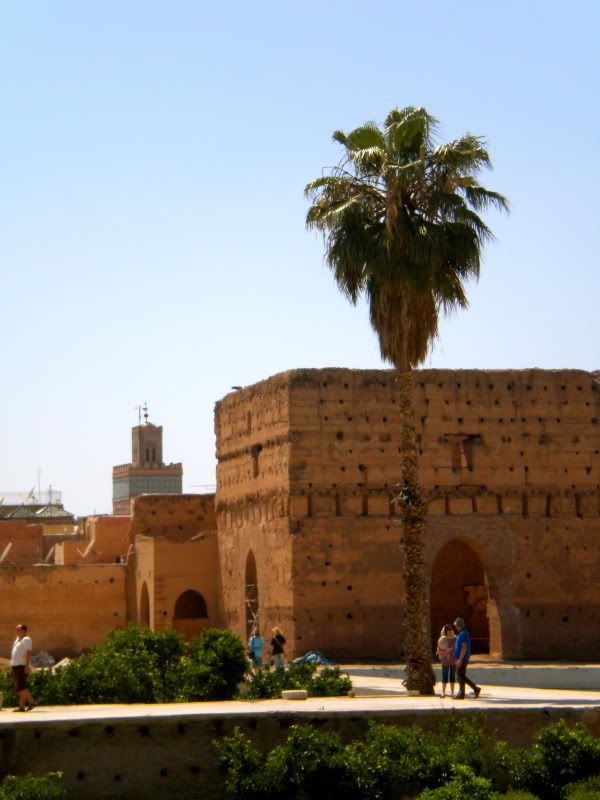 Go Harold Go!
Day 3 was spent in the new town. We visited the beautiful Majorelle Gardens, which are a haven for colours that are not pink, and a bit of a shrine to Yves Saint-Laurent, who lived here for a while. It also ended up stopping us from going into the Medina that day, which proved to be more than a little lucky.
Oh, to be a French Designer...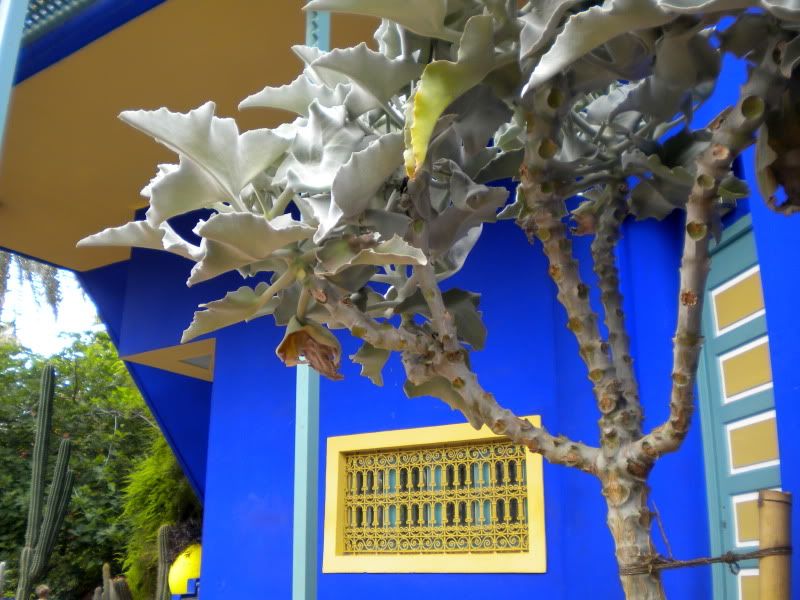 Colour!
Meow...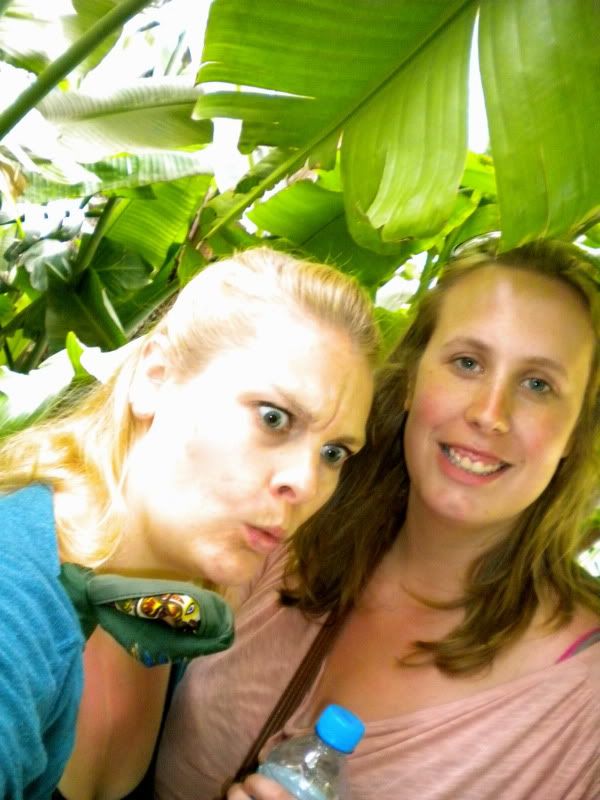 Majorelle Gardens? Or a jungle? hmmm...
Loved the colours
Cactus Garden...spot the travel companions!
That afternoon my phone was ringing non-stop, unbeknownst to me, in my bag. By the time I answered it, to the frantic voice of my friend in the UK, I knew something was wrong. There had been a suicide bombing in the Medina that afternoon. A man had gone into a restaurant frequented by tourists and had set off a nail bomb. 14 people were killed and the middle level of the restaurant was blown completely out. We were scared, but extremely lucky that we had not been near that area. Tourists were advised to stay clear of the medina, and we definitely did.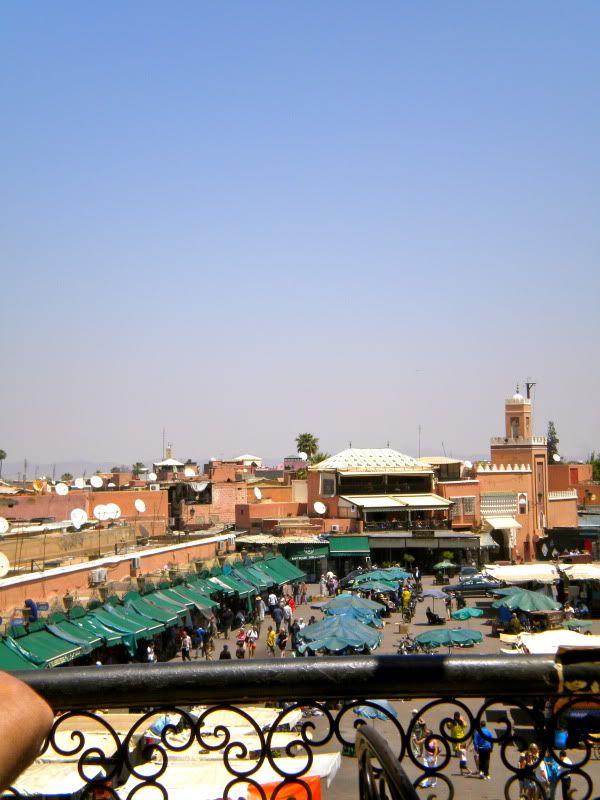 Cafe Argana and...
Cafe Argana, post-bomb
Luckily, we were distracted the following day first by the royal wedding on the only english channel we got in our apartment, BBC News (how appropriate!), and then we popped off to the spa for a traditional Hammam. In a hammam, you get to sit in a steam room, then you get scrubbed down very thoroughly by a woman, washed up, covered in a body mask, rinsed down, and then you get to sit in a robe and contemplate how many layers of skin you just lost. It was so fabulous!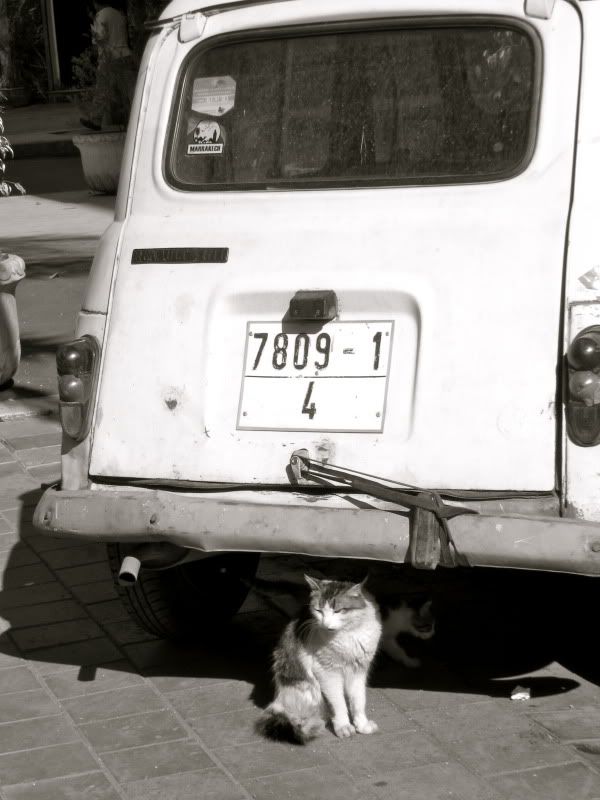 I call this "Cat and an Old Car" prints on sale now!
We spent the next day taking a road trip over the atlas mountains to see Aït Ben-Haddou, a kasbah that is also a Unesco World Heritage Site. The trip through the mountains was beautiful, the kasbah was gorgeous, and had amazing views, and it was nice to get out of the town for a day. Note #1: Marraech really is not a town that needs more than 3-4 full days to get the feel of it. A week was more than we needed. Thus the day trip!
Oh hi! We're in the Mountains! That's a small kasbah behind us!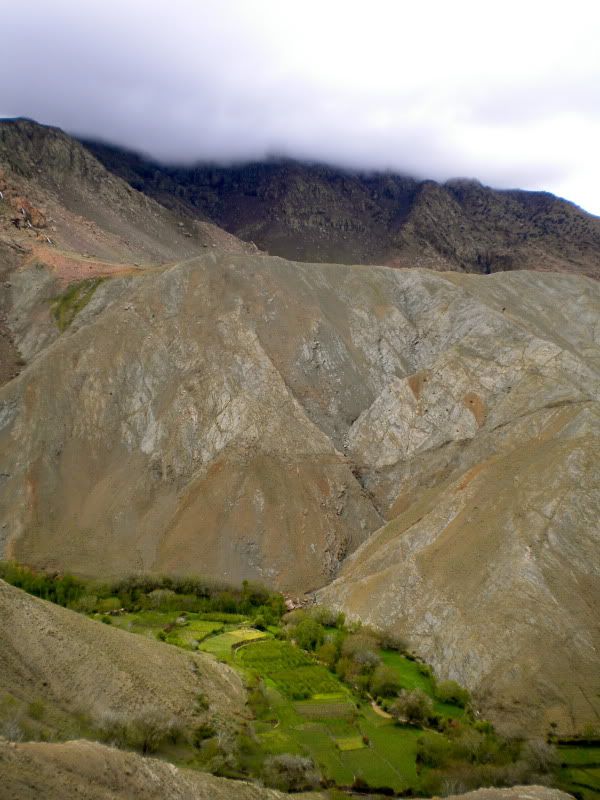 Gorgeous Mountain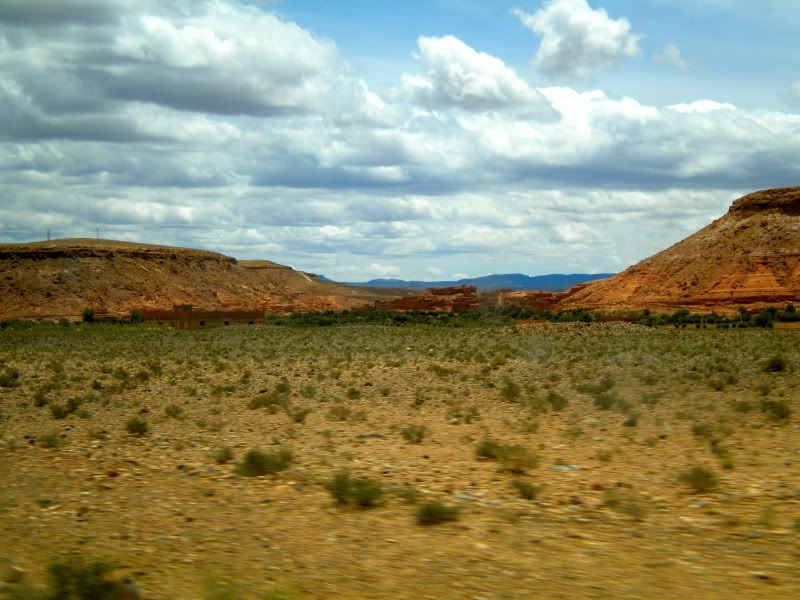 Love the desert!
UNESCO knows their stuff...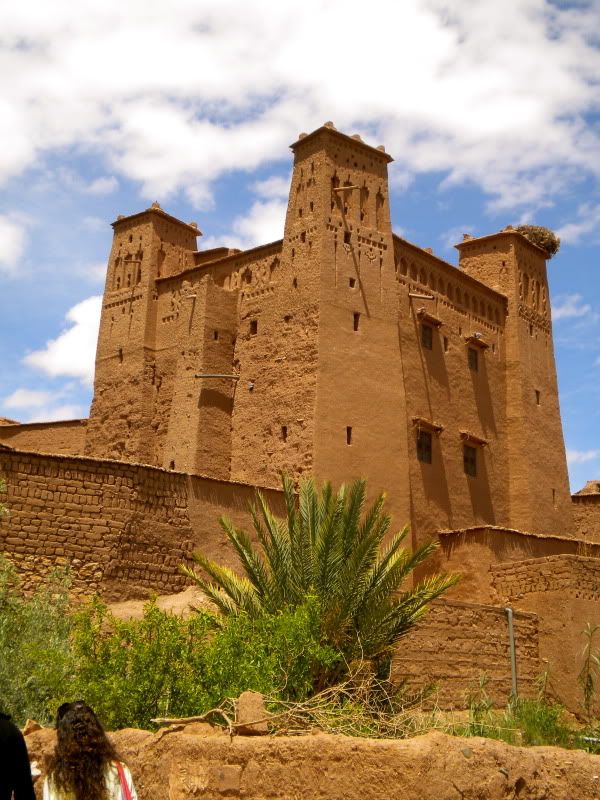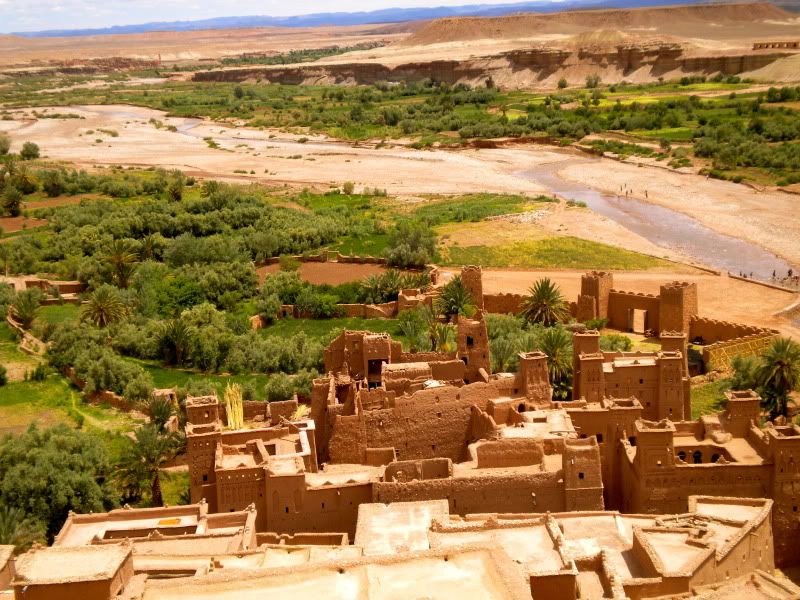 View from Aït ben-Haddou
other view from Aït ben-Haddou
On top of the World
Architecture of a Kasbah
How quaint! Gotta love those mountain towns!
The last few days of our trip included wandering through the souks (markets) and bartering for deals, eating amazing French and Moroccan food, finding the only places in Marrakech that sold wine and doing our part for the Moroccan wine industry, and laying out by the pool on our last day, which happened to be one of the only sunny days we had. Note #2: Rain follows me wherever I go. I may need to see someone about this. It's starting to become an issue.
A street off the souks
beautiful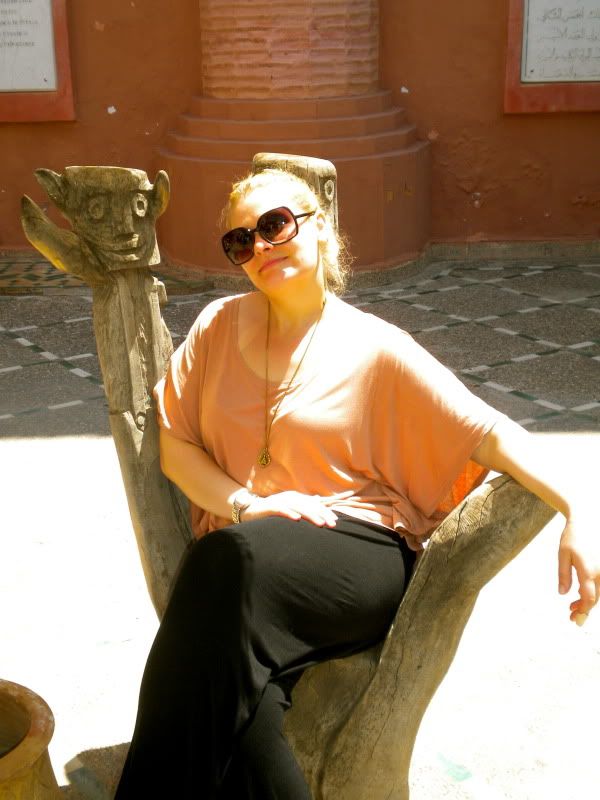 I loved this chair
Emma is Bedouined-up and ready for a desert adventure!
The outside of a school
getting rained on!
I love the sun...
To sum up, Morocco is an amazing country! Yes, there were some scary bits (bombing, and the taxi drivers were a bit of a treat), and some annoying bits (being blonde and white in an Arab country=men shout to you and yell inappropriate things no matter HOW loose and demure your clothing is). But overall, the people were fantastic, the food was a treat, and being so ensconced in such a completely different culture is such an eye opening experience. I love it.
Proof that terrorism is not acceptable no matter what your religion
I wish you all beautiful life and beautiful travels.
<3 Kim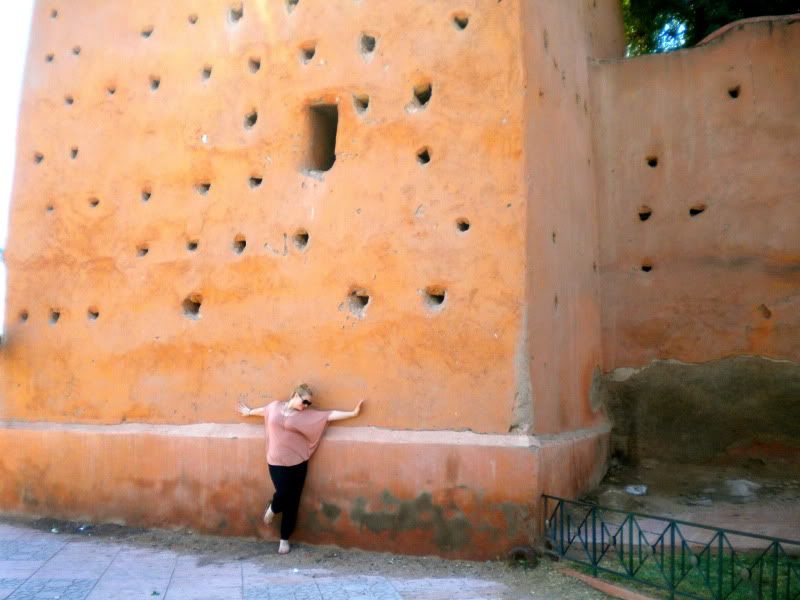 I blend right in...