Wow, I just realized that I haven't written for two months...two months that have been jam-packed with a LOT of random people, places, and events.
March went out in a whirlwind of birthday related fun...I threw myself a Tapas party here in my flat, with a lot of good friends from my University programme, my Mediterranean friends, and even my friend from home who lives in Switzerland came up for the weekend to join in on the festivities. It was a nice day, a little bit weird to turn 25, but I've grown to accept my status as part of the "Quarter Century Club".
Adam and I on my Birthday
Alicia, Sophie, Adam, Me, and Chris
Went to California and Washington for about 17 days at the end of March/Early April. It was nice weather, and even nicer to see everyone I got to see, although there never seems to be enough time to see everyone, do everything you want to do, and still find time to relax (I definitely missed out on the relaxation part the most). I'll be back though, so if I didn't get to see you this time, I'll definitely make sure to see you in a few months!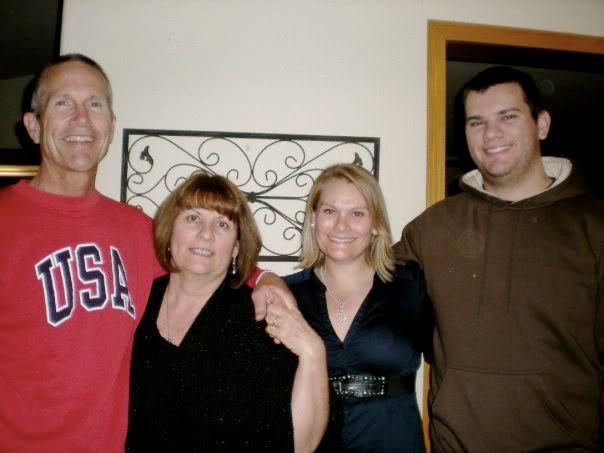 Mi Familia
Recently, the University sent the Anthro postgraduates to the highland for a 4 day workshop preparing us for fieldwork. It was an interesting week, we met a lot of crazy anthropologists (apparently in Edinburgh we are the LEAST crazy of the anthro students throughout Scotland). After that, I recently presented my thesis to the entire department here in Edinburgh. It went really well, now that I HAVE a project! HAHA! In the UK there is no "general education" requirement for public speaking or anything, so I had the upper hand by having past experience in doing presentations and taking a public speaking course.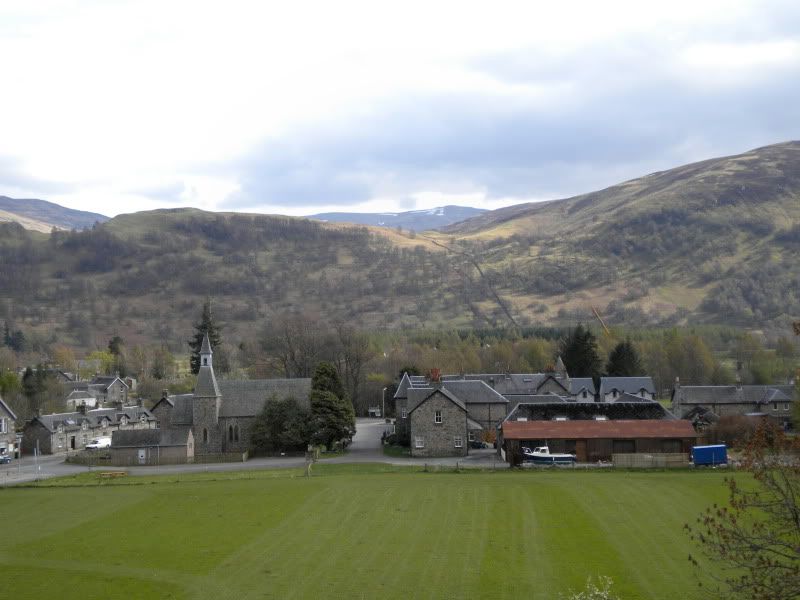 The town of Kinloch Rannoch (Anthro workshop)
I've been spending a lot of time working on my Master's thesis and trying to figure out what I'm going to be doing in the upcoming years. I have decided to defer my entry into the PhD after this year for two reasons: one, I have no funding, and there is no WAY I am going to self-fund the entire degree and research. Two, I need to do some serious thinking to decide if I actually want to undertake the PhD. One thing I have learned this year is that the PhD process is, itself, a rite of passage that is intense, very difficult, and seems to be set up as a hurdle for those who might want to go on and be real Anthropologists in the future. AS of now, I am very much interested in my research topic, but not quite sure I need to be bothered with the entire PhD process (some of you know how I feel about being forced to jump unnecessary hurdles put in place by institutions).
I have two options for next year now: One, I can work here while I decide what I want to do. Two, I have been accepted into the Creative Writing Master's degree here in Edinburgh. This would be an intensive writing course, and it is apparently quite hard to get accepted into the programme, so I am definitely thinking long and hard about which direction I want to go in next year.
My Master's research/PhD research Proposal has finally been settled on after months of reading, reflecting, and meeting with my amazing (new) supervisor. I am looking at the Hindu migrant community within the UK, specifically Scotland; and how they are attempting to create a unified, cohesive Hindu community and identity within the UK despite the fact that within India there is no cohesive, unified "Hindu" identity. Hinduism is a broad, varied, and highly differentiated culture and religion. The fact that Hindu migrants are consciously attempting to unify themselves in an effort to differentiate themselves from other South Asian migrants in the UK through self-consolidation is a fascinating social process. I want to look at how food (a very important Hindu cultural tool) is used to bring the community together and reify the Hindu communal identity. Also, I plan to look at how the use of certain Hindu food traditions and the disuse of certain food traditions from India is used as a political tool within the community to create dominance and to uphold social and economic differentiation between members of the community. (Remember, in Hinduism, certain people can't eat with other castes or social groups, certain people are vegetarian, some can't serve others because they are "polluted", everyone prepares food in regionally and socioeconomically specific ways, etc.)
more on that in upcoming months...
I am still really loving my life here. I live with an amazing friend, Adam, who is a wonderful person to have around-full of energy and life and always up for anything, but also really focused on the future and passionate about doing what he can to help others. Starting in September, I will be living with my friend Yara, a Law student from Lebanon who is one of the smartest people I have ever met, and who has the most potential to have an impact on the world of anyone I have ever met. She will be moving into the flat here that I live in, as Adam is planning to move away from Edinburgh for a while.
The weather continues to play with my emotions...I have definitely adapted to the cold, enjoying the "warm" days when it gets up into the high 50's and I can walk around in light clothing. (Sad, but true). Unfortunately, Mother Nature thinks it fitting to bless Edinburgh with three to five days of sunlight and warmth, then proceed to throw five days of overcast, rain, and snarling wind in our direction. This is definitely a place where you are well-advised to check the weather report every morning before leaving the house!
This summer is going to see me traveling quite a bit (fingers crossed). At the end of May, Darleen and I are going to visit Berlin for a few days. Neither of us have been there, ant it is supposed to be a fabulous city to visit. In early June, I'm heading down to London to meet up with my friends who are coming over from California for a week. After that, Adam and I are in the process of planning a trip to Turkey and Israel (or perhaps Israel and Jordan, where we have a mutual friend) the plan changes on a daily basis, but think Israel is definitely going to be in the mix. I'm really excited to go to some new places, and especially someplace in a part of the world I have never visited!