I have always felt that September 21/22 was too early to end the summer...in Southern California, summer stretches right on into November, and only technically ends when you start hearing Christmas music on the radio. But here, Fall is in full sway. The leaves are changing, the wind is blustery and cold, and the random spots of sun through the clouds make for a welcome respite, a few seconds pause, in one's daily wanderings about the city.
With fall comes many things in Scotland. Christmas goodies are already out in the stores (I have already developed a semi-addiction to mini-stollen), warm drinks are on everyone's mind, going out is sometimes hindered by the rain (this is mostly for the internationals, though...the locals barely notice), thoughts of holidays past creep up on everyone in the form of story exchange, "at our house for Christmas we..." "oh, for Thanksgiving we go to...", and of course, the cold germs are running rampant through the close quarters of the mostly-indoor lives of the Edinburgh crowd.
Yes, I'm sick as I sit here writing. Just a cold, but an annoying one. And that is one of the reasons I didn't write last week.
"What else have you been doing, Kim?" you may ask
the answer is: a lot of cooking/bonding/trip planning/general merryment with a bit of studying thrown in for a subtle contrast!
For starters, last Sunday saw the coordination, preparation, and consumption of a Thanksgiving feast, the likes of which I'll bet my kitchen has NEVER seen:
Tina and I cooking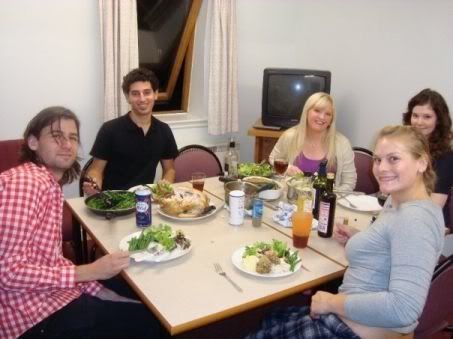 The whole group
By the way, this was, in fact, Canada's Thanksgiving...apparently there is no REAL significance for this holiday a la Pilgrims and Native Americans, but its an excuse for a holiday. I wholly support holidays in general, and any excuse to cook and eat holiday food is most welcome!
Later that week, we happened upon a great deal at Bannerman's, an infamous pub for students in Edinburgh...three snakebites for the price of two! What else could we do, really?!?!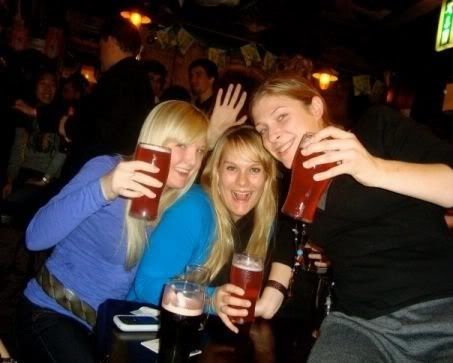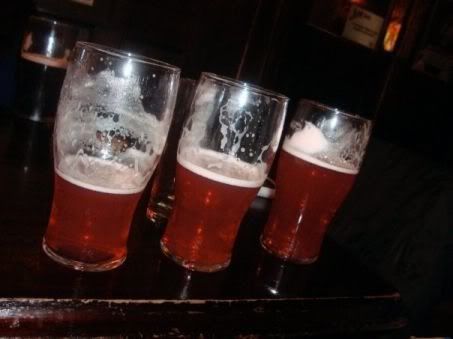 The next day saw the beginning of my germ-fest, so I was down for the count until TODAY. But I did manage to get it together to cook one more time. This time, for the Mediterranean Gastronomic Society. What this means, in a nutshell, is that six times a year, groups of 5-7 people get together in whatever kitchen is available, cook a starter, main, and dessert from an assigned Mediterranean country (including Northern Africa and the Middle East on the Med.) then all the different groups/countries come together (around 50 people in total) eat each other's creations, vote, and have a good time overall.
As I can offer both kitchen and a common room big enough for cooking and meeting to eat, I by default get to be a kitchen leader and responsible for the whole society having a place to meet. And you all know how I HATE to be in charge (sense my sarcasm). HAHA!
Anyways, that was a lot of fun, my group had Italy. We made Prosciutto di Parma-wrapped figs with soft cheese, Pollo Gorgonzola with rosemary roasted potatoes, and Balsamic Strawberries served a la mode. Good stuff, good stuff!
I also reserved flights this week for a girl's jaunt over to Dublin in December after the term ends with Tina and Katrien. Should be a nice way to wind things down (or up, seeing as Christmas and Hogmanay will be close behind). And at 20 pounds roundtrip, who could resist such a trip?!?!
Lastly, On Friday last I was elected, by virtue of no one else wanting the job, into the position of Ambassador/Representative for the Anthropology Master's by Research students for official school business (like meetings, conferences, etc.). So that should be an interesting experience, and a good way to see and be seen around the University and all its political avenues.
It has now been over a month that I have lived here, and my whirlwind affair has steadied into a true love for this city and some of the amazing people and things I have had a chance to encounter!
Tha gaol agam ort! (I love you)