Love? Emotions? Ideas? Events? Weather?
Any of these could describe the past two weeks of my life.
Lets go in order, shall we?
Love:
No, I'm not IN love with some new, dashing Highlander who has come and swept me off my feet. Sorry guys. HAHA, by "love", I mean that I have come to appreciate certain people a lot more, both in the US and here in Edinburgh. My parents, super supportive as always; my Brother, steady and helpful as always; my extended family, sending the occasional e-mail, letter, and phone call my way to make my day special; my friends, keeping me up to date on the happenings in their respective lives, scheming trips to the UK, and still showing interest in MY life; and my friends and colleagues here, who have been the biggest system of support through the past few weeks, keeping me sane, and reinforcing my backbone when stuff gets too hard to sift through on my own...
These people remind me why humans are such an amazing species. I found a quote a few weeks ago that really sums up humanity to the core:
"The remarkable thing about man is not that he is an 'upright' ape, but that he 'stands' for some things and not for others" -Anonymous
If you think about this, it is incredibly true in all aspects of what we as humans call life. We stand for some ideals of what "life" is and not others, some preferences over others, some tastes, some passions, some religious views, some political views, some roads through life and not others.
It is our cognate ability to differentiate and choose which makes us unique, and it is that ability and the action taken from it that allows ME to have a future career as someone studying HUMANS and their similarities and differences on varied levels.
Sometimes, being surrounded by PEOPLE all the time is wearing. Especially when you are an observer to the bone, like I am. I see things and interpret things and contextualize things without consciously trying, and having your brain "on" like that continuously can lead to serious meltdown. If I didn't have the people I LOVE in my life to keep me from falling, or failing, or running away, I think life would be a lot harder to wade through.
Segueing into Emotions:
As you may have noticed, it has been an EMOTIONAL last few weeks. After being sick, returning from London, watching the world's reaction to the next US president, and realizing that my first term at the University of Edinburgh was quickly coming to an end, I had a serious crisis of representation in relation to my research and my future...
LONG story short, I am changing my research project. If I am going to spend the next four years of my life on one project, it needs to be something that I really, really enjoy and can realistically accomplish. I am thinking of something along the lines of Food and Identity, especially from an international, immigrant perspective.
I love food, I love looking at how identity is reinforced or altered through the symbolic act of cooking, eating, and food rituals. So there you go, new topic! (Plus I really have NO desire to do the traditional anthropological rite of passage in which I live in a mud hut in some jungle, learning the language of some unknown [albeit fascinating] indigenous group for two years)
Deciding to do a complete 180 turn from my old topic was HARD, and emotional, and scary! This was literally me saying:
"I am not that person, I am this person, and this is what I may well be known for for the rest of my life" Bit intimidating, yes?
If not for the support from my family and some key people in my program (Kudos to Lucy L., Siobhan, and Richard B.) I may have just ran off into the wilds of Europe to be a beatnik writer for the rest of my life! (which, really, is still possible, but that reality can wait until I have a PhD HAHA)
Ideas:
This was really summed up in the "emotions" section, with my new research proposal. Although with that shift, I begin to look at the things in my everyday life more closely in relation to food. Living in an international residence is really a much richer, complex, dramatic, inspiring situation that I would have ever thought. The people I live with give me ideas, thoughts, and random anecdotal happenstances everyday.
If you want to know what life is like in a university residence hall, just imagine a season of "The Real World" on MTV. My life would be "The Real World: Richmond Place". It would get top ratings, no question about it!
Events and Weather:
Its been a busy few weeks, probably only get worse now that finals and the holidays are here. Last weekend was the second event for the Mediterranean Gastronomic Society. I was leader of team France, we made a veggie cassoulet, Goat cheese and tomato tart, and cinnamon palmiers. good stuff.
Then there was the Death Cab for Cutie concert, which was awesome! I saw them in Cali over the summer, but in a smaller venue, they were even better! And I loved seeing how Scots reacted differently to songs than we would have in the US. Shows how deeply ingrained the importance we place on specific things really is. We may be very similar, but we still are from cultures with very different pasts and different moral and idealistic groundings.
Ben Gibbard...amazing lyricist!
Last weekend was also the Scotland vs. South Africa National Rugby game. we walked 2.5 miles to the stadium for the game, along with thousands of other fans. the game was great (S.A. won) then we all walked home, and proceeded to party well into the next morning. fun!
Jessie and I
The girls going to the game sporting our colors!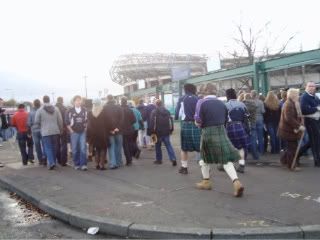 walking to the game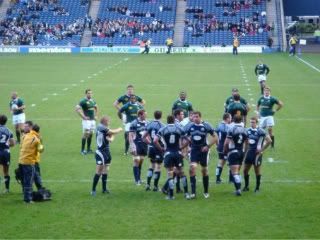 RUGBY!
! I love Rugby!
Then there was the Mediterranean Night we had as a society fundraiser. hours of Mediterranean music, dancing, and revelry. I got some dance lessons and met a lot of fun people. Some of them invited me to a birthday this last Friday at the VooDoo Rooms, a great restaurant/bar/club here. the Ambiance is very Moulin Rouge-meets 19th century New Orleans with some Caribbean style thrown in. The aesthetics alone made the place worth it, and I (again) got to meet some fab new people from all over.
And it snowed. on Friday. Twice. yes, it has already begun. the past week has been wicked cold and the high next week is a balmy 44 degrees. HAHA. Its funny having a real fall season... at least i'm getting use out of my sweaters!
Tonight my house had an American Thanksgiving potluck. I made a pecan pie and a sweet potato pie from scratch (crust and all...a first for me)! It was fun, and everything was good. Turns out you can't buy canned pumpkin in the UK. They just don't carry it. Who would have thought?!?!
I also got to attend to opera today! La Traviata...it was AMAZING! There is a theatre literally 2 minutes (walking) from my building, and students get great deals! Needless to say, I plan on taking advantage of teh arts as much as I can while I'm here!
Sunset out my window
(Disclaimer: for some reason Blogger won't resize half of my pics, just open them in a new window to view the entire pic)
<3